Activity Bulletin for the Week of December 9, 2013
BHS Important Dates 2013 - 2014
.Please check the calendar for important dates and updates.
ALL DATES ARE SUBJECT TO CHANGE WITHOUT NOTICE!
---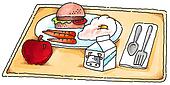 The lunch menus for BHS and Full Day Kindergarten at BHS will be changing for Dec 11th and Dec 12th.
Changes:
11

Roast Chicken DinnerRoasted Sweet potatoes with Cinnamon & brown Sugar GravyGreen Beans Cranberry SauceDinner Roll

12

Chicken nuggetsHomemade Cole Slaw Potato Wedges Fresh grapes Dinner rollcondiments
---
.
The Braintree Art Department is pleased to announce the 2013 Fall Exhibition of Braintree Public School Art Students Grades K-12.
The work, representing every school in the district, can be viewed at the Thayer Public Library through December 16 at 2PM during normal library operating hours.
.
Click on
this link
to view the work on exhibit.
---
The PTO is looking for donations of breakfast items for the Annual Teacher Appreciation Breakfast on December 12th in the Teacher's Lounge.

This would include store bought or homemade quiche, breakfast casseroles, juice, fruit, muffins, bagels, coffee cake, pastries, etc.

Y
ou may drop off your donation at the PTO meeting on Wednesday, December 11th at 6:00 pm or send it in on Thursday morning.

Thank you for your help! Please spread the word to your friends to see if they might be interested in donating as well.
---
'Tis the season... to show our appreciation for our teachers!
We all know how dedicated our teachers are at BHS. We have also heard how much teachers spend out of pocket to provide for their classrooms and their students!
The BHS PTO is sponsoring a Holiday Drive to gather donations. There is a collection box in front of House 1 waiting to be filled. The gifts will be distribution in December. If you prefer to send in a monetary donation, all funds collected will be used to purchase requested items for the teachers. Please make checks payable to: BHS PTO
Suggestions: Tissues, Paper Towels, Expo Markers, Duct Tape, White Board Wash Fluid, Erasers, Antibacterial Wipes, Pencils, Post-it Notes, Black and Blue Pens, Hand Sanitizes,Index Cards (3x5, 4x6), Markers, Colored Pencil.
---
You may order yearbooks online by credit card at
www.jostensyearbooks.com
.
All yearbook orders are due by 12/19/13.
.
.
Class of 2014 Personal or Friends Forever Ad
New Deadline: December 19, 2013
---